Octagon House from Friendship, New York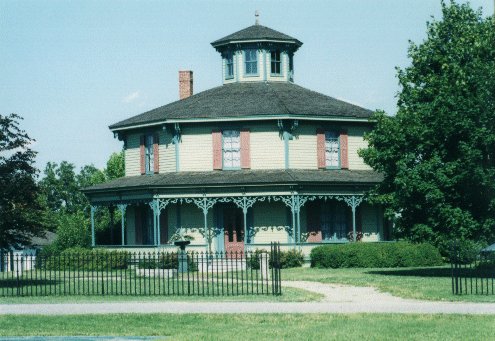 Tour the House
For eleven years we lived in Rochester, New York, and while there we frequently visited near-by Genesee Country Village. This is an historic village recreated by local beer magnate John Wehle. He collected period houses from around Western New York to represent the time period between first white settlement and the end of the 19th century. Among the houses, shops, churches, and other buildings he collected, the octagon house is perhaps the most famous. It is used as a signature piece by the museum and appears on many of their brochures. I imagine that nearly everyone who visits the museum takes time to tour it.
When we first saw the house we were intrigued by it's unique, workable floor plan. I was somewhat familiar with the notion of octagon houses and the fad that generated so many of them during the later part of the 19th century. However, I was under the impression that it was difficult, if not impossible, to create a useful floor plan from such a rigid shape. This particular octagon house, though, suggested that it might indeed be possible to create a very functional and beautiful floor plan after all.
Eventually, our interest grew more serious and we decided that we might some day want to build such a house. So we contacted the museum about getting whatever plans they might have. We were surprised to learn that they had no plans what-so-ever! Apparently, many of the houses collected for the museum were in such a poor state of repair (and had been so mangled by remodeling) that floor plans of the houses would have been of little use in restoring them. However, the museum's curator graciously offered to let us come down on a Monday when they were closed to the public, and let us go through the house taking pictures and measurements. Of course we took them up on the offer!
I doubt that many other people have had the kind of total access to this house that we did that Monday afternoon. The curator took down all the velvet ropes and even held one end of the tape measure as we measured and photographed every room, every angle, in an effort to get a documentary record of this unique house. This portion of the site presents the results of our effort. Please take a few minutes to wander through history!